Getting Rural Virginia Connected: The TOP Grant Funded Project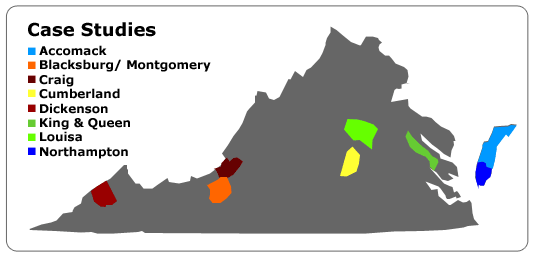 "Virginia's rural communities lag the rest of the state in terms of income, education, and wealth." - 2001 TOP Grant proposal
The rise of the Internet potentially enables rural communities to break the chains of geography and become producers, rather than merely consumers, in a digital economy. "Getting Rural Virginia Connected" consists of two parts:
Local leadership and decision making.
Professional IT consulting and a suite of 'out of the box' website applications.
This division of labor enabled communities and VCE agents to focus on people and issues, while BEV focused on technology.
1. People
Take Charge
'Take Charge' is a community building process adapted from Take Charge: Economic Development in Small Communities, published by the North Central Regional Center for Rural Development. Take Charge is one of the building blocks of Getting Rural Virginia Connected. VCE personnel coordinated Take Charge meetings and assessments in TOP counties.
2. Technology
BEV: A pioneer in community network design
Blacksburg Electronic Village, or BEV, is one of the nation's oldest community e-networks. It was developed and has evolved in response to the needs of the community it serves. This project in selected rural communities of Virginia loosely followed the same tried and true model.
"BEV in a Box" Application Model
BEV's legacy web applications were reworked in scaleable, open source PHP and MySql technology. Community networks include the following:
People Directory
Business Directory
Community Group Directory
Web hosting
Hosting for local organizations
Webmail
Calendar
Site search
Discussion boards
Training